Hiking Near Denver
Another reason to study English in the state of Colorado: the incredible natural landscape. Hiking, camping, skiing – people come here to enjoy the mountains, rivers, and other natural wonders. Denver is perfectly situated along the eastern side of the Rocky Mountains – commonly referred to as the "front range" – to enjoy all of the beauty while living in a developed urban area. The city's position relative to the mountains means there are endless opportunities to explore within a short drive. Below are a few of the great hiking near Denver – within a one hour drive! (A note from the author: these are in no particular order because I have such a hard time deciding which hike or beautiful view is best; they're all pretty darn good!)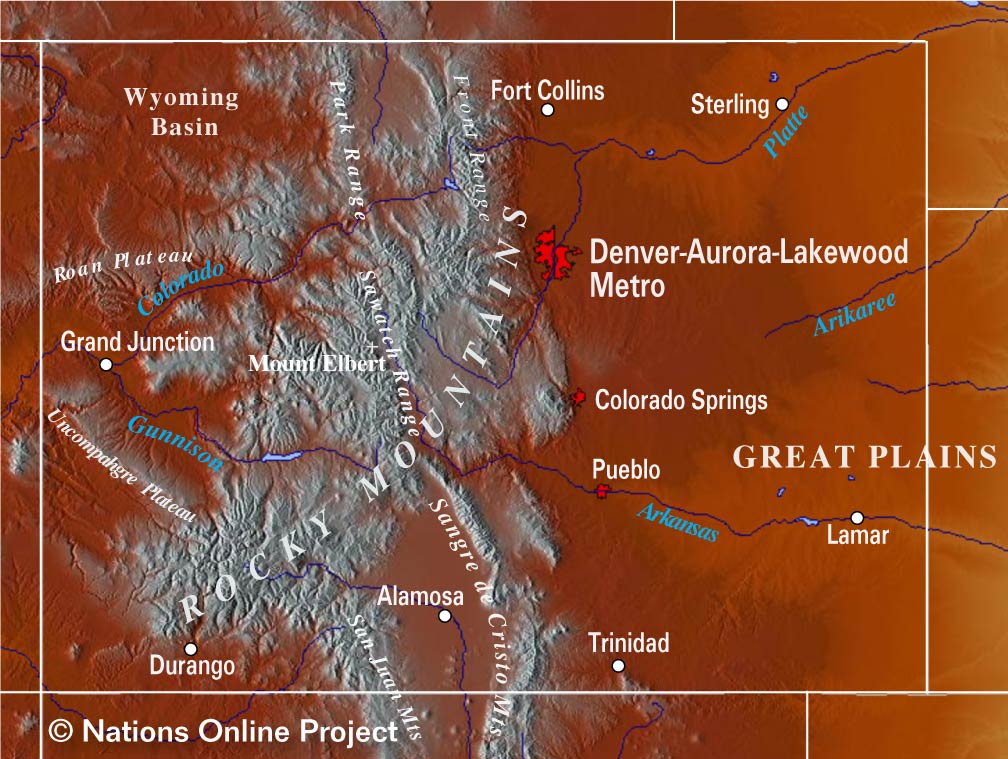 Garden of the Gods
There are many reasons to like Garden of the Gods. First – it is completely free to enter! (State and national parks require an entry fee or park pass.) Garden of the Gods is on the west side of Colorado Springs, about an hour south of Denver. It is famous for its enormous red rocks that seem to have grown straight up from the Earth. It's a nice place for a day with the family due to the fact that it has paved walkways through the center of the park as well as benches. In other words, it can be an easy walk with places to rest! It also offers more rugged hiking trails, a road with plenty of parking options, and mountain biking trails. From the trails you will have views of both the park and Pikes Peak to the west, one of Colorado's tallest & most famous mountains. Finally, if you've learned to rock climb, Garden of the Gods is a popular spot for that as well. When you are finished hiking and exploring, head over to the visitors center for refreshments, gifts, or a presentation from a park ranger.
Flatirons
About 40 minutes to Denver's northwest is Boulder, Colorado. Just outside of Boulder you will find the Flatirons. There are 5 enormous rock formations that rise out of the grassy fields in front of them, shaped like the same iron you would use to flatten your clothes before an important meeting or event. Iconic to the city of Boulder the shape of the Flatirons is widely used in logos and other designs you will see when visiting. There are over 40 miles of trails throughout the Flatirons and many of them are accessible from Chautauqua Park in Boulder. Depending on where you end up, you may have views of the Continental Divide, wide open meadows full of wildflowers, the Flatirons themselves, or the Boulder metro area. No matter what view you have, it is sure to be spectacular. Again, this is another popular rock-climbing area as well as hiking.
Mt. Evans Wilderness Area: Chicago Lakes Trail
Mt. Evans, found near the town of Idaho Springs, is about an hour from Denver. Garden of the Gods and the Flatirons range from easy to moderately difficult hiking. Hiking the Mt. Evans Wilderness Area around the Chicago Lakes is more challenging, typically rated as difficult in the hiking community. The summit of Mt. Evans is 14,271 feet above sea-level. This makes it the 12th tallest in Colorado and the 27th tallest in the United States. What does that mean for you and your hiking adventure? You will gain serious elevation during your hike! The elevation will give you the amazing panoramas the Colorado Rocky Mountains have to offer. Endless views of the Rockies in one direction, with views of the flatter expanse of land toward the Plains in the other. You might see wildlife such as big horn sheep, elk, and mountain goats during your hike. There are two lakes as well as a creek along the route. A hike around the Chicago Lakes will give you a challenging and quintessential mountain hike experience.
Castlewood Canyon State Park: Waterfall Hike
A 45 minute drive from Denver is an easy-to-find waterfall. A very short hiking loop will take you to the waterfall. The loop will take you 30 minutes at most, but there are plenty of other trails within the park to keep you busy once you've had your fill of the falls. Castlewood Canyon also has historical relevance to Colorado; a dam – built and which later burst – in 1933 sent a 15-foot-high wave of water into the city of Denver. Remains of the dam and other buildings are still there today. Some of Colorado's smaller animals are often visible here, such as coyotes, meadow jumping mice, and the northern leopard frog.
Hiking Tips
Hiking in Colorado is beautiful and good for the body, mind and soul. However, please remember to hike prepared! The National Park Service has an excellent list to help you stay safe and enjoy your adventures in the Rocky Mountains. We'd love to hear how your day hikes went. Post a picture on our Instagram, Facebook or LinkedIn pages.