Denver, Colorado: Why is it Amazing?
The Denver, Colorado, area is one of America's best-kept secrets for international students!
Denver, where New America College is located, sits at the foot of the Rocky Mountains. Just a short drive and you are surrounded by the heart of the Rockies. An international airport can get you anywhere you want, affordable housing, amazing mountains, culture and restaurants and lots to do!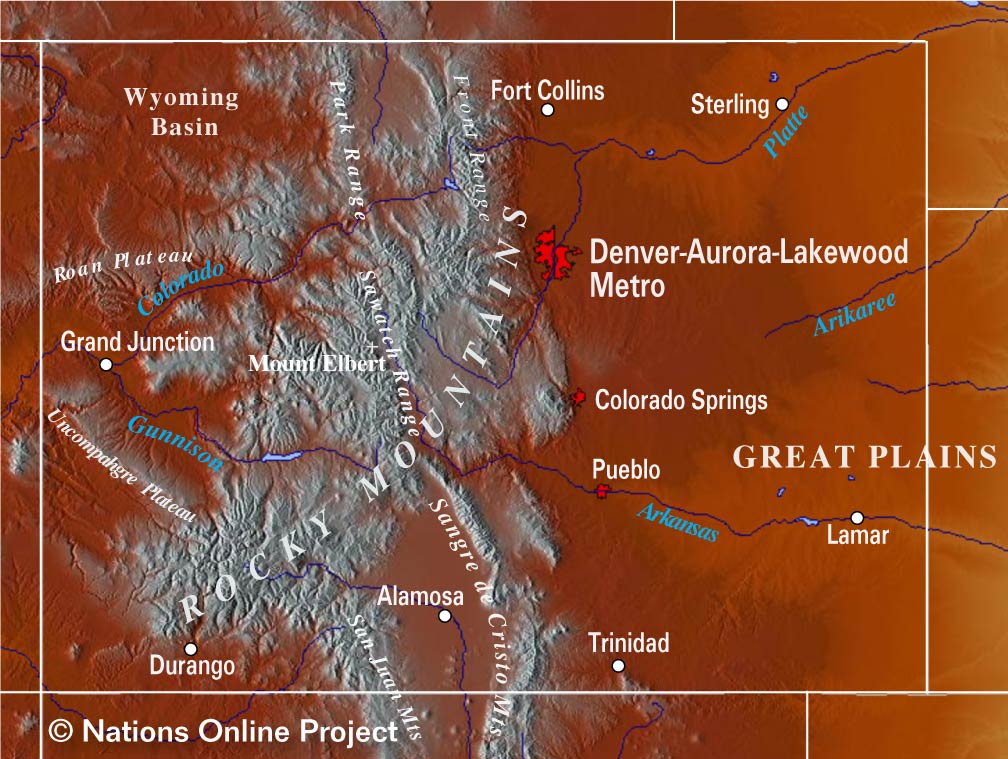 So why should you visit Denver, Colorado, and New America College?
Reason One: Nature!
The Rocky Mountain range extends from New Mexico north into Canada. Denver sits on the east side of the Rockies. Spectacular views of mountain peaks, some of which rise to over 14,000 feet (4,260 meters) surround Denver's metro area. Not even an hour's drive west immerses you in the beauty of nature. You have endless opportunities for outdoor exploration and recreation. Colorado is known for countless skiing and snowboarding opportunities. Hiking trails are extensive, along with whitewater rafting, canoeing, paddle-boarding, camping… The options are truly endless. If wildlife is your thing, you can spend your days looking for the iconic bald eagle in the sky, or the numerous mammals that grace the mountains. Moose, elk, and bighorn sheep just to name a few. From an English learning perspective, you will certainly expand your vocabulary related to nature and wildlife!
Reason Two: Weather
The city of Denver averages 245 days of sunshine per year – that's almost 70%! Compare that to the United States' average of 205 days, or 56%, and you can see why people from around the world are coming to Colorado. You might be thinking that Denver being situated more than 5,000 feet (1,500 meters) above sea-level would have snowy, bitterly cold winters – and you would be partially correct. It does snow in Denver, but you're never more than a few days away from sunshine and the snow melting. Even on cold days the sun will warm you when it breaks through the clouds. If you're from a warm weather climate, don't worry! Denver has a very manageable winter. You won't find a better city for year-round enjoyment of the outdoors!
Reason Three: International Community
Denver is the United States' 19th biggest city, with around 700,000 people. 14% of Coloradans were born outside the U.S.! That means you will more than likely have a community of people who may be from your home country. Of course you will want to make friends with and interact with the locals, but we understands the importance of having a community of people to help you and to befriend. Denver isn't as overwhelming as New York City or Los Angeles, but you will still find restaurants and cultural elements to make you feel at home when you need it.
Reason Four: Cultural Immersion
Like any country, the United States isn't "just" one giant entity. At New America College we want you to understand not just the English language but American culture as well. Our Mastery level English classes especially reflect the importance of the role of culture in understanding language. Often called "Gateway to the American West," our location in Denver, Colorado, gives our students the opportunity for a unique learning and immersion experience. The American West frontier is credited with influencing American character, institutions, culture and society. Historic (and current!) mining towns, ranches, rodeos… all of the history reflected in America is at your fingertips.
Reason Five: Further Educational Opportunities
You are interested in studying English in the United States because you want to learn in an immersive language environment – to be surrounded by a community of people speaking English. You may also be interested in higher education opportunities to help advance your career or to discover your own future path. There are many excellent schools to accomplish that in and around the city. University of Denver, The University of Colorado, and Columbia College are three that come to mind.
New America College has partnerships with:
Community College of Denver
Columbia College
Colorado Technical University
Come learn English with us and then continue your education at a world-class university!
Reason Six: Sports
Denver has SO many professional sports teams! You can always find something to do around town if you're into sports. And if you're not into sports, it's fun to see the teams do their thing and enjoy the reaction of the home crowd!
(American) Football: Denver Broncos (2016 Super Bowl winners!)
Football/Soccer: Colorado Rapids
Hockey: Colorado Avalanche (2022 Stanley Cup winners!)
Baseball: Colorado Rockies
Basketball: Denver Nuggets
Lacrosse: Colorado Mammoth
Contact us for more information. We look forward to meeting you!